Women are known for being multi-taskers. We are either juggling our kids schedules, working endless hours at work, performing household chores, paying bills, doing laundry, preparing dinner, going to play dates… and the list just keeps growing.
However, you deserve to have a sanctuary space where your desk accessories are uniquely special. Rose gold desk accessories are my favorite color! They are chic, classy and they have a way of making you feel special when your are surrounded with these attractive items.
I selected some of the exact items, I currently use on my desk. I hope these rose colored desk accessories will bring you peace and joy throughout your day.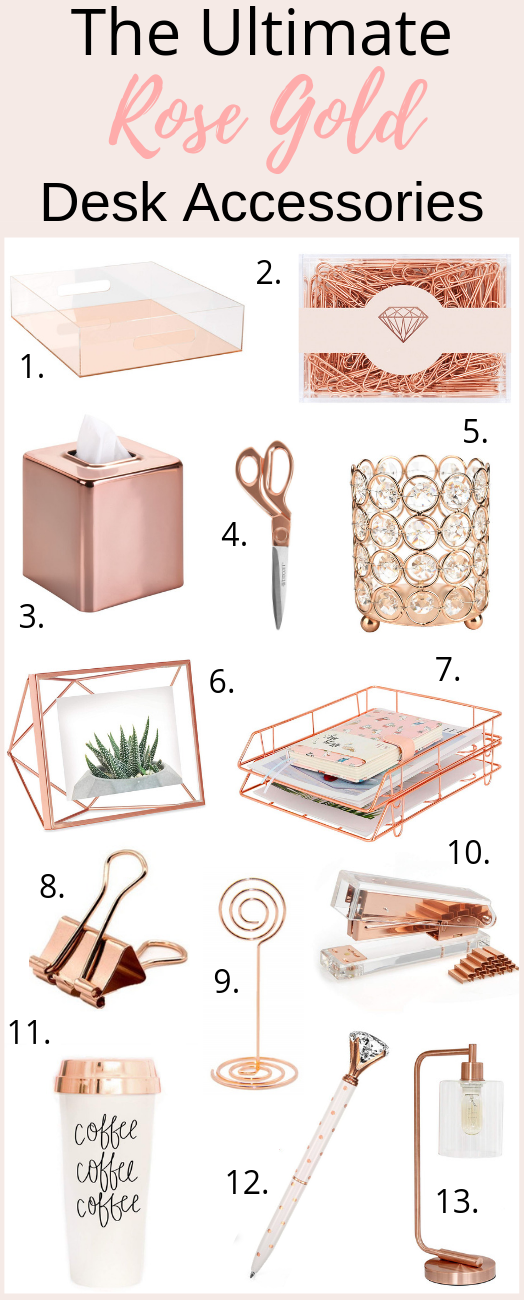 This adorable rose colored letter tray is the perfect chic accessory to store those important documents. This tray will help keep you organized so those important notes will all be in one location.
Who what have thought paperclips could make me feel so happy. I love these clips! They are a gorgeous rose gold color, they hold up well and I know you will be just as excited as I was when they arrived.
Pull out a tissue with this rose gold tissue holder. This color will blend perfectly with the rest of your desk accessories. You may be so happy with this holder, you just may purchase one for your guest bathroom.
These Wescott scissors will hold up well in your office. They are heavy weight, have a 5 year warranty and are very fashionable. You would not think scissors would be such a priority, until you pick up a pair that are so dull, you would get better results using a steak knife.
When the sun comes beaming in your office, this pencil holder will sparkle like a diamond. It will look chic holding all your rose gold pens and it will certainly be an eye catching desk accessory.
These frames can be used to display small paintings, family photos or perhaps a postcard for a future travel destination. The frame allows light to come through and their unique geometric pattern is what makes these picture frames so attracting.
These letter trays will coordinate perfectly with your rose colored office theme. If you are a teacher, they can be used in a classroom setting to collect assignments (they stack well) or just a beautiful accessory to add to your shelf or desk.
Every office desk needs a set of rose gold binder clips. These will grip firmly to a large stack on documents or use them for hanging pictures on a wall grid at your desk.
I have these holders scattered around my desk. They hold important messages, business cards, photos and my immediate to do lists. However, they can also be used for table decorations for that special dinner party you maybe giving in the near future.
You can't have a desk without a rose gold stapler. This gorgeous stapler, with matching staples, will have you stapling papers all day long. I LOVE my stapler and highly encourage you to purchase one these chic "girl boss" staplers.
This mug can be used to hold your coffee, hot tea or smoothie, but it can also be used as a gift for a bridesmaid, special friend or significant other. They would feel so special to receive this gift, specifically picked out by you.
You will feel like queen writing with one of these bling, crystal ballpoint pens. If you are pen enthusiasts like me, then you will not be disappointed. You will receive 4 crystal diamond pens and 4 transparent gift boxes! How cool is that!
This desk lamp will bring sophistication to any office. Place this lamp on a desk or bedside table for a chic look in fashion lighting. It's simplistic in its design and just large enough to give you sufficient lighting in your work area.