21 Self Improvement Quotes To Inspire and Motivate
We always have room to grow and step outside of our comfort zone. I know it can feel scary, cause stress and make us feel uncomfortable, however, without self improvement how will we get to the next level.
We stay complacent out of fear, failure and rejection but there is so much to learn and experience. We live in age where everything is at our fingertips. We have means to talk with people across the ocean, travel anywhere in the world and yet it's as if a curtain has been pulled over our eyes and we only view life through the narrow view that complacency tends to give us.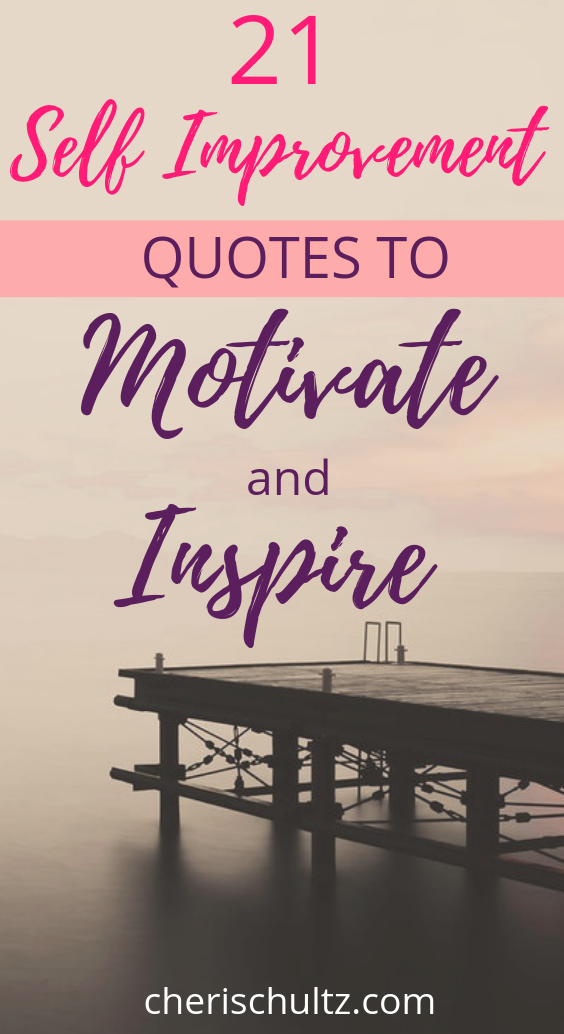 Isn't it time to stand tall and stand strong and make a change towards self improvement? My goal is to snap you out of your complacency mood and stop being average. It's easy to settle, however, you have so much inside that's need to be uncovered and discovered.
If you struggle with confidence and self esteem issues, you may be interested in a course I created specifically for individuals who need that extra boost to stay committed and unleash their potential. 

21 Self  Improvement Quotes To Inspire and Motivate
I created these quotes during a hardship in my life and I hope they can inspire you to believe anything is possible, as long as, you commit and take action each day!
1. Every moment is a new beginning.
2. You don't fail unless you quit.
3. Be confident and quiet the voice of doubt.
4. Release stress and fear to focus on what makes you feel good.
5. Stay away from negative people, they always have a problem for every solution.
6. Have courage, stay humble and be kind.
7. When you perform acts of kindness, your soul radiates joy.
8. Even in your darkest moments the sun will rise again and reveal it's splendor.
9. Be gentle with yourself and keep peace in your heart.
10. People may doubt what you say but they will always believe your actions.
---
Related Articles: 
---
11. If it was easy everyone would be doing it.
12. Don't fudge your future based upon your past, live each day as if it were your last.
13. In order to win the battle, you need to fight against rejection, accusations and insecurities.
14. To be an effective rainmaker, you must follow the clouds.
15. Be the game changer and do not allow others to evaluate your strategy.
16. If you fall down, pick yourself up, brush yourself off and have the determination to finish your race.
17. Do what is right, not what is eEasy.
18. Be mindful of the load you are carrying, carry it upright and with confidence.
19. No more excuses. If you don't have time, make the time.  If it's worth achieving, then it's worth succeeding.
20. Don't live your life based upon someone's expectations. You will never achieve personal success living in the shadow.
21. The best part of memories is creating them.
"In life, if you don't risk anything, you risk everything."
My Latest Books
Inspirational Quotes For Challenging Times
---
I am so happy you stopped by to create a Healthier New You!  
Right now I am offering a FREE 30 minute "Skyrocket Your Confidence" coaching session.
Imagine creating a life where you overcome insecurities, build a healthy self-esteem level, restore your confidence and ignite your passion.
It's absolutely Awesome!
✔️ Worry is replaced by optimism
✔️ You have a renewed sense of energy and enthusiasm for life
✔️ You feel motivated about your future
✔️ We will develop a 3 Stage Action Plan
✔️ Uncover hidden challenges that maybe sabotaging your success
✔️ Leave the session with renewed energy to achieve your goals
✔️ Create a Life You Love!
Just email me today and let's get started!